These species are not native to our state and is very difficult to control once it becomes fully established. Milfoil reproduces through fragmentation whereby plant fragments break off from the parent plant through wind or boat action, grow roots, and settle in a new location. Milfoil spreads rapidly and displaces beneficial native plant life. It makes swimming difficult and can devalue waterfront property. Where this species grows in its native environment, insects and fish may feed on this plant at such a rate as to control its growth. Milfoil has no natural predators to keep its population in check. Under optimum temperature, light and nutrient conditions, milfoil may grow up to an inch per day. How Did Exotic Milfoil Become Established in This State? It was most likely a "stowaway" fragment attached to a boat or trailer that came to this region. Milfoil can live out of water for many hours if it remains moist.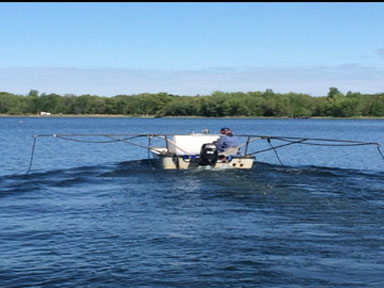 Applicator using liquid 2-4D using subsurface injection












2019 Milfoil Treatment:

There was not enough EMW evidence to support chemical treatment of EMW this year.

2019 Pre Treatment Survey

2018 Milfoil Treatment:

Tim Isle worked on obtained our permit for our 2018 milfoil treatment. Below is the post treatment survey.

2018 Post Treatment Survey

9-23-18 Milfoil Genetics Sampling

This past summer, only 12.9 acres of Eurasian Water Milfoil were treated on Clearwater Lake. This is a significant reduction from previous years and reflects the efficacy of the chemical treatment being done by Lake Restoration, our treatment vendor. Previous year's acreage totals were as follows:

2015 – 43 acres

2016 – 73.8 acres

2017 – 59.2 acres

2018 – 12.9 acres

While the reduction of acres treated was very good news, a subsequent follow-up survey of the lake's Eurasian Water Milfoil by AIS Consulting Services, yielded several possible genetic milfoil hybrids. Based on the recommendation of AIS Consulting Services and information CLPO Board members learned at the Minnesota Aquatic Invasive Species Research Center's Fall Conference, it was decided to send in milfoil samples for genetic testing. It appears as if some of the hybrid milfoils (combinations of Northern and Eurasian milfoils) could possibly be resistant to chemical treatment. Additionally, these new hybrids could be more disruptive to lakes. Thankfully, the results of this genetic testing showed that we do not have a hybrid Eurasian milfoil.





2017 Milfoil Treatment:

Tim Ilse worked on obtaining proposals for our 2017 milfoil treatment. He received three proposals that Steve & Tim evaluated. Based upon cost and last year's performance, they recommended Lake Restoration to the rest of the board, which they approved.

They did their evaluation and will be treating 59 acres, 5 areas with one area being 39 acres for a total cost of $23,500.

2017 Post Treatment Survey



2016 Milfoil Treatment:
2016 Clearwater Lake Post Treatment Map